Ok so I know those are the most random things to talk about but that's how I roll :0)
Well I was a dummy this morning and took my vitamin on an empty stomach. Not only did I choke trying to swallow that massive thing, but I got sick in my driveway about 10 min after I took it.... Ugh....
Always remember to eat BEFORE you take those things!!
Christmas is my FAVORITE time of the year!! I love everything about it! I like shopping in the crazy crowds *gasp*. I even tried to offer my services to friends and Christmas shop for them!
Yes I am crazy, but I am just being honest people!
I wish my Christmas tree could stay up all year :0(
White trees are coming back people!
Which I just realized I have neglected to show ya'll! EEEEK!
Booo Melissa! Ok I will post them before Christmas, I promise!
This snow covered tree doesn't look kid proof!
Mmmm orange and turquoise!
Im loving this gold star topper!
And one tacky tree of course!
Oh and what do you think of these trees???
No I did not flip the picture....
Yes That is the most ridiculous thing I have ever seen....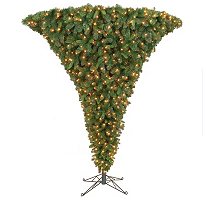 I just dont get it.......
If you have one please explain to me WHY!?